What is Shopify and How Does Shopify Work?
Shopify is a complete commerce platform that lets you start, grow, and manage a business. Let's see… How Does Shopify Work?
Shopify offers a 14-day free trial, so merchants can test out the platform to see if it's right for them. All Shopify templates can be customized with images, logos, text, and videos to complement your brand's look.
If you're looking to sell products online but don't have a ton (or any) experience in web development or coding, don't worry.
Shopify offers a comprehensive eCommerce web builder complete with hundreds of templates ready to go right out of the box.
You'll understand much better through a video tutorial. Check out this amazing Youtube video:
What can you do with Shopify?
Create and customize an online store
Sell in multiple places, including web, mobile, social media, online marketplaces, brick-and-mortar locations, and pop-up shops
Manage products, inventory, payments, and shipping
Shopify is completely cloud-based and hosted, which means you don't have to worry about upgrading or maintaining software or web servers.
This gives you the flexibility to access and run your business from anywhere with an internet connection.
How much does Shopify cost?
Try Shopify free for 14 days, no credit card required.
After your trial expires, choose a pricing plan that suits the size and stage of your business.
Do I need to be a designer or developer to use Shopify?
No, you don't need to be a designer or developer to use Shopify.
Customize the look and feel of your store with the online store builder and themes.
Add features and the functionality to your store with apps.
In what countries can I use Shopify?
You can use Shopify in nearly every country in the world.
How to get started with Shopify?
1. Sign Up with Shopify
Visit Shopify.com to know more about How Does Shopify Work? Use the signup form to create an account.
Enter the required details and click the 'Start free trial' button.
After this initial screen, you'll be asked for a few more details, including your name, address, country and a contact number.
You will also be asked if you have products and, if so, what you aim to sell. If you're just trying out Shopify to see if it works for you, you can select 'I'm just playing around' in the 'Do you have products?' dropdown, and 'I'm not sure' in the 'What will you sell?' section.
Once complete, click 'I'm done'.
2. Start Setting Up Your Online Shop
After you've signed up you'll be directed straight to your store admin screen. Now you are ready to start customizing your store, uploading products and setting up payments and shipping.
Your home admin screen tells you all you need to know to get you up and running.
3. Choose a "Theme" or a "Layout"
Shopify has its own official theme store.
These themes are all guaranteed to have full support from the designers so you know that your store is in good hands.
All themes come with a comprehensive list of modifications you can make without having to touch a line of code.
The premium themes come with more modifications, but you can also achieve a great looking site with a free one. These changes are outlined in the next section.
If you want to make wholesale changes to a theme, there are very few limitations on what can be achieved by accessing the HTML and CSS.
Don't worry if you haven't got any coding experience.
Shopify has an international team of design agencies they call 'Shopify Experts' that you can hire to fully customize your site.
4. Customize theme
Shopify knows building a website should be a journey – and a fun one at that! After you've completed a task, it moves with you and keeps you motivated.
It's like having a personal trainer for your online store.
In the image below, notice how the 'Add product' has been ticked, and the 'Customize theme' tab is now highlighted.
Shopify talks you through the store building process, so you're never confused.
When customizing your store's design, you have three options.
You can stick with Shopify's signature theme, 'Debut'; choose one of 10 free themes; or pick one of the 50+ paid templates, costing $140 to $180.
Click the button in the top right, and get ready to let those creative juices flow – we're about to take you through each step for designing your template.
5. Edit text
For all your typeface needs, use the left-hand side menu.
From here, click on each page tab to update the header and overlay text, and to change the font size.
You can even throw in a 'Button label' and link it to a URL, or another page on your site.
The Shopify theme editor menu is clearly laid out, saving time and effort.
Repeat this step for each page, and your site will now say what you want it to.
Want to add text to even more pages?
No problem – simply hit 'Add section' and pick a section category.
Shopify lets you add every type of page, from blogs and galleries to maps and testimonials.
It's comprehensive in all departments.
Shopify provides lots of free background images to help customize your store.
To change the typeface color, click 'Theme settings' on the left-hand side menu.
You can also change label, form field, and link colors.
The simple customizing tools and visual cues really let you personalize text without a fuss.
6. Add images
For images, Shopify has easily identifiable buttons wherever you go.
Depending on your theme, each page tab on the navigation menu will have a blue 'Select image' button. It's really easy –  take a look at the image below.
Adding images on Shopify can be done with just a couple of clicks
To update the homepage background, hit that blue button to upload your own. Alternatively, you can 'Explore free images'.
From there you will have loads of free template images to choose from, covering many different industries.
7. Group Products into Collections
Organizing your products into collections is a fantastic way to sell more and make your site navigation a little easier.
Collections make it easier for customers to find the products they're looking for and can increase both initial purchases and add-on purchases.
For our example Shopify store, we might group collections into pet treats, pet clothes, pet care, and pet toys. We might also have a "featured summer products" in order to encourage impulse purchases.
These collections will be displayed like a webpage, with all the product images showing up in a gallery.
Users can click on an individual image and be taken to the product page.
8. Enhance Your Store with Shopify Apps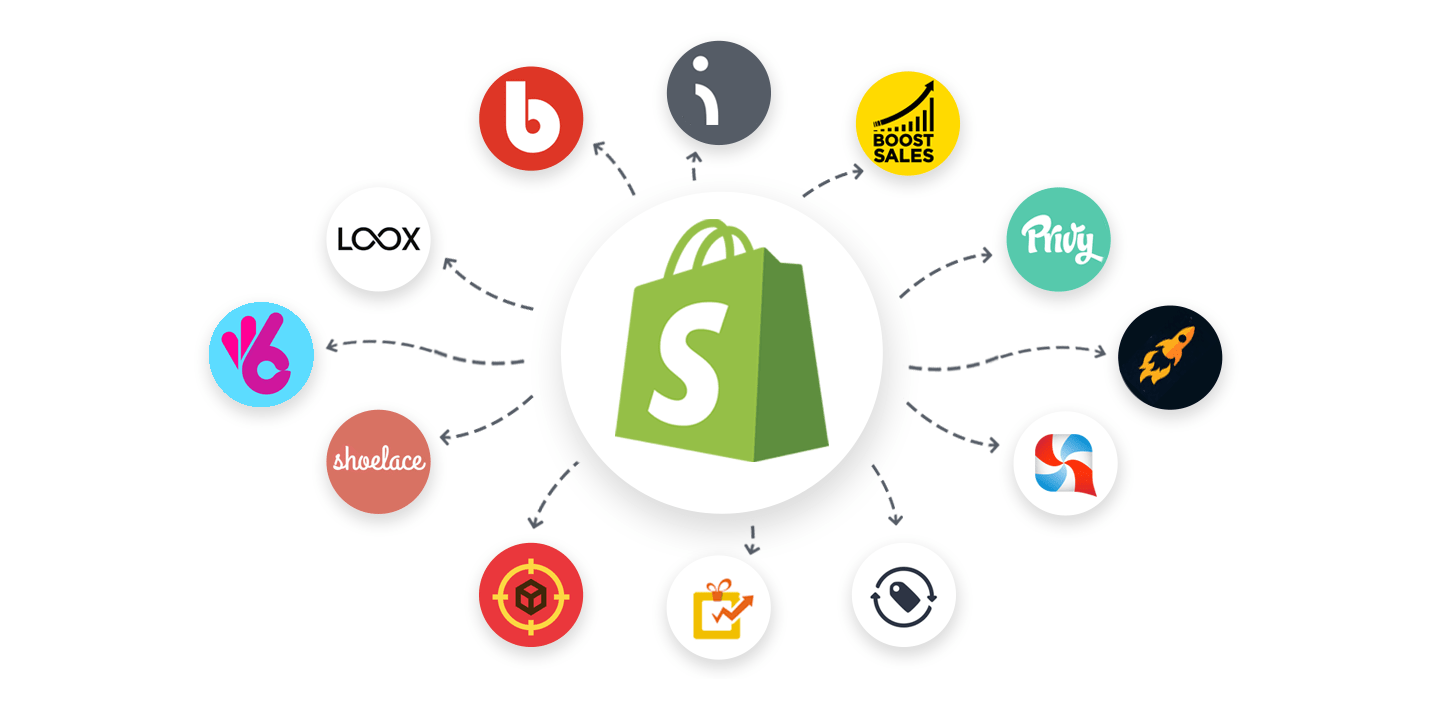 Wish you could automate shipping costs based on product weight, incorporate more reviews on your site or link your Shopify store to your social media feeds?
Shopify apps can do all this and more.
Your store can do pretty much anything you can imagine thanks to the Shopify app store.
There are an endless number of apps—both free and paid—that can help you improve functionality, automation, and capabilities of your store.
This can improve both your experience and your customer's experience.
Installing apps is easy. Many require only single-click installation.
If they don't, they give you step-by-step instructions. Then you can start implementing them on your site.
Wondering how to get started with Shopify apps?
You can get an overview of different options here.
If you don't see what you're looking for though, check out the app store because there are way too many categories to fit into a single blog post.
9. Set Up Your Payment Gateways
One of the last big things you'll need to do is to choose payment providers.
You can't sell, after all, if customers are literally incapable of purchasing no matter how much they want to.
To do this, head to your Settings and then click "Payment Providers." Note that under the Settings, you can also customize your online checkout process if needed, adjust shipping information, and add taxes.
Different payment options include:
• Shopify payments. This is powered by Stripe, and allows you to accept credit cards on Shopify's behalf.
There are credit card fees, but these are only a fraction of a percentage point higher than if you were accepting credit card fees yourself.
This option is automatically enabled, though you need to complete your account setup. You'll need to fill out information about your business license, tax identification number, address, and social of the primary owner.
• Paypal Express Checkout, which allows you to process payments through Paypal.
This is a popular option for many customers, as they don't have to enter in their credit card information to a store they aren't familiar with.
For these purchases, you'll be charged a credit card processing fee. Paypal comes automatically enabled, so you need to deactivate it if you don't want it on your store. After a customer makes your first purchase, you'll be asked to link to your PayPal, so have one set up already.
• Amazon Pay. Amazon Pay lets customers make payments using information stored in their Amazon account. Again, this is about convenience.
• Manual payments. If you're open to accepting check, bank transfer or money order, Shopify gives you that option—you just have to enable it.
• Other alternative methods of payment. If you want to take payments through more alternative methods, that choice is up to you. You'll need to enable these manually.
10. Publish Your Shop
Once you've got your shop all ready to go, it's time to start selling. In order to do that, you need to choose a paid Shopify plan and have your store go live.
The higher the plan you choose, the less transactional fees you pay.
Keep that in mind if you're operating at a large volume, because some stores will eventually save money by opting for that $299 per month plan with the 0.5% transactional rate.
What Are The Pros & Cons Of Shopify?
As you may expect, while Shopify is an excellent option for many merchants, it isn't for everyone. Here's a brief list of the reasons merchants choose Shopify, followed by a list of common customer complaints. 
Pros
Easy To Use: This is by far the biggest reason merchants love Shopify. Shopify is built for the technically illiterate. It's simple to add products, create discounts, and process orders. Web design is user-friendly — and even easy — with the new drag-and-drop editing tool.
Low Startup Cost: Shopify's relatively low monthly fees make setup affordable. How much does Shopify cost, you ask? The basic plan costs $29/month and the mid-level plan is priced at $79/month.
Beautiful Themes: Subscribing merchants can choose from a variety of free, mobile responsive themes. Premium (paid) themes are also available for merchants who want more options.
Good For Dropshippers: Shopify is the platform of choice for many dropshippers. Integrations with Ordoro and Oberlo make dropshipping from your Shopify admin a lot simpler.
Lots Of Support Options: You can access technical support every hour of the day through phone, live chat, or email. Self-help options are available as well. Customers like that support is available outside of regular business hours.
Cons
Limited Functionality: Shopify comes pre-loaded with almost all of the features smaller merchants need to build an online store. However, every business has some specialized requirements, and Shopify typically does not have the features to meet those specific needs. This is where add-ons come in. Many merchants end up needing to purchase a handful of add-ons to make this shopping cart work the way they need it to.
Costly Add-Ons: As I've said, while Shopify offers almost every basic feature, the software is lacking many advanced features. You'll have to find these features in the form of add-ons, which are not free. The cost of adding just three add-ons can double your monthly fees.
Transaction Fees: Although most shopping carts have dropped their transaction fees entirely, Shopify has retained their 0.5% to 2.0% fees (depending on your pricing plan).
Strained Customer Support: While in the past Shopify has been known for responsive customer support, it seems their support team has experienced increased strain this past year. Shopify's client load is increasing exponentially, and support is struggling to keep up. Hold times of up to thirty minutes are not uncommon.
How Does Shopify Work and How to use Shopify?
Wondering how to sell on Shopify? The way to get the most out of your Shopify subscription is to play to the software's strengths. Shopify offers a few feature modules that you can use to boost your administrative power and expedite daily processes.
1. Look Into Shopify Payments
You know that one of Shopify's biggest downfalls is their transaction fees.
Shopify charges between 0.5% and 2.0% on every transaction you make using their platform (depending on your plan).
However, if you choose to use Shopify's in-house payment processor, Shopify Payments, you can have those transaction fees waived.
Another benefit is that Shopify Payments offers reduced processing fees to clients on higher level Shopify plans. Take a look at Shopify Payment's rates below. 
A word of warning: Many Shopify customers complain that they aren't permitted to use Shopify Payments.
Make sure you read through the Terms of Service before you count on using Shopify Payments.
2. Utilize Shopify Themes & Templates
Shopify is best known for ease of use and modern web design.
Sections let you edit the look of your homepage using drag-and-drop design tools.
You can easily rearrange pieces of your main web page. I only wish Shopify would hurry up in extending this level of customizability to other aspects of their storefronts.
3. Become Multichannel With Shopify POS
If you're a multichannel merchant who sells in-person as well as online, Shopify is an excellent choice.
Shopify makes it easy to sell in brick-and-mortar and pop-up shops with their in-house POS system. When you sign up for Shopify's eCommerce store, you'll also automatically register for Shopify POS.
Shopify POS lets you easily complete in-person retail transactions and process credit card payments.
Your online store and POS system will be synced so that every inventory change you make on one platform appears on the other.
4. Try Selling Digital
Shipping is one of the biggest hassles involved with online selling, and it can really cut into your profits.
Selling digital products allows you to benefit from all the perks of selling online while eliminating one of the major downsides.
Using Shopify's native digital products features, you can sell downloadable merchandise.
Market your MP3 files, printables, videos, and eBooks. Disable shipping on those products, and you'll be able to deliver download links right to your customers' email.
In order to automate the delivery of your digital products, you'll need to implement an app.
The Digital Downloads app in Shopify's marketplace might do just the trick. The app automates your delivery by providing download links to your customers upon purchase and sending an additional downloadable link via email on your behalf.
Load up a few downloadable products and start fulfilling customers' orders faster, without spending a penny on shipping.
5. Start A Blog
Maintaining a blog can work wonders for your online store.
Not only do regular blog posts boost your SEO rankings, they also help to build your brand's identity.
Fortunately, Shopify is one of a handful of shopping carts that comes with built-in blog features.
You can write, edit, and publish blog posts right in your admin panel. For most merchants, Shopify's blog functionality will work perfectly fine, but I should warn you: As with many of Shopify's features, Shopify's blogging is fairly basic.
If you want your blog to be the main focus of your online store, Shopify may not be the right choice.
6. Other Ways To Make The Most Of Shopify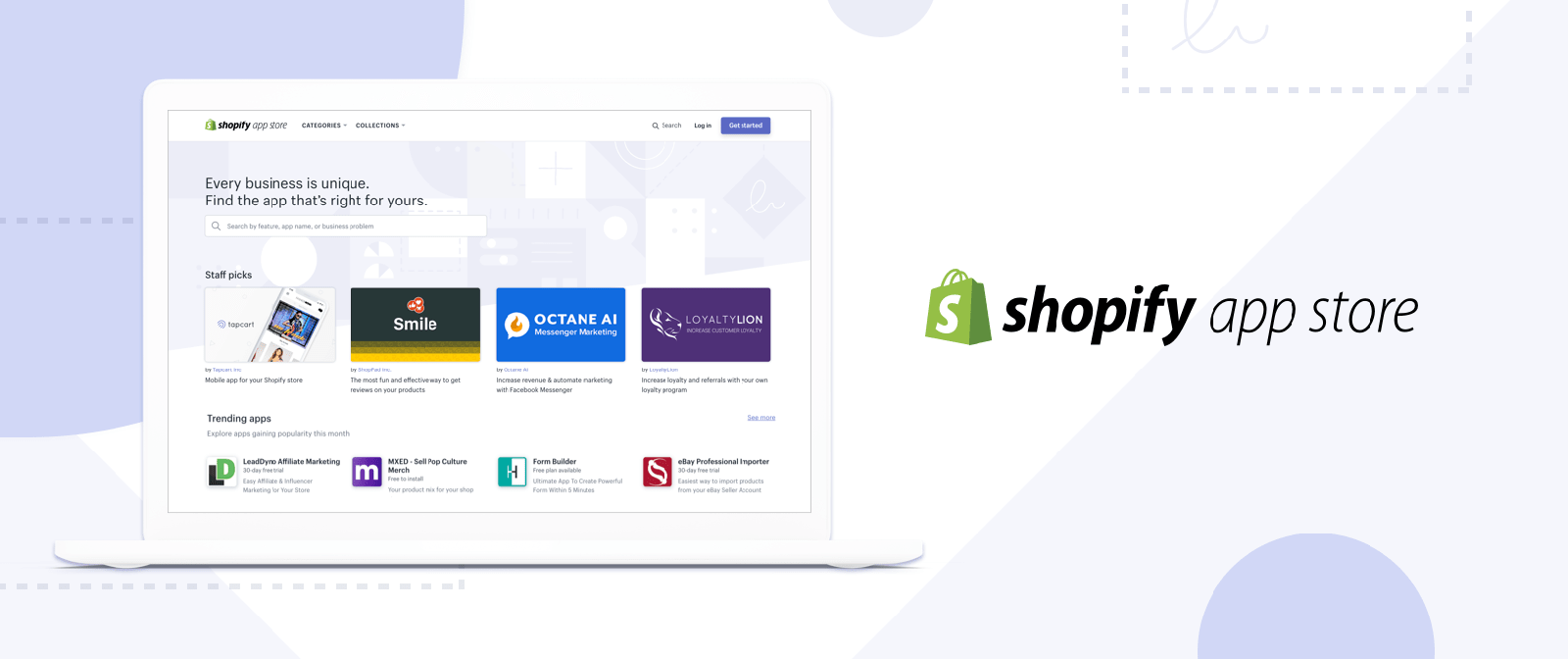 Shopify Shipping: Shopify's brand new shipping modules allows you to integrate with major shipping carriers in order to calculate real-time shipping rates. You can purchase and print shipping labels directly from your admin panel. You should note that this shipping module does not let you display calculated rates in your customers' shopping carts.
Dropshipping Apps: Shopify allows you to integrate with a handful of dropshipping applications, including Ordoro and Oberlo. I have seen numerous reports of success with these applications in combination with Shopify.
Mobile Management: Shopify offers a mobile app, which lets you manage your store from anywhere.
Integrations With Amazon & eBay: Connect your Shopify account with two of the internet's biggest marketplaces. Process orders from all of your sales channels in Shopify. It should be noted that while we're glad Shopify has bothered to create these integrations, they have not garnered good reviews with Shopify's user base.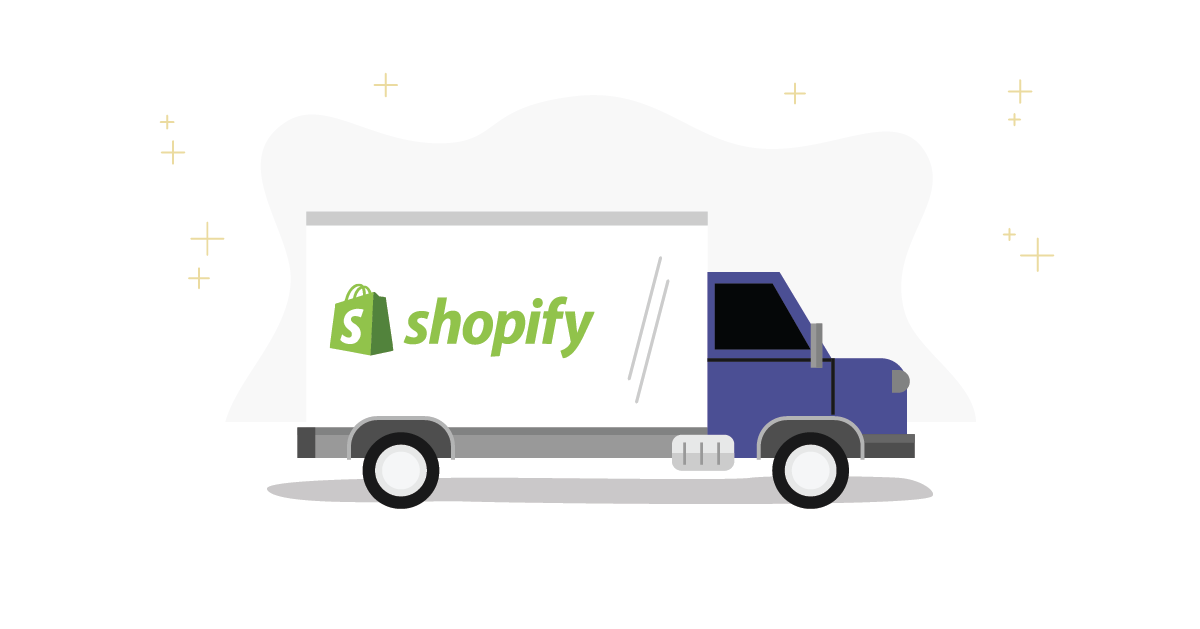 Shopify is an excellent shopping cart for many merchants.
Its easy to use interface, reasonable pricing model, and beautiful themes make it one of our favorite eCommerce solutions, and we recommend it frequently to readers.
But as always, I suggest you continue your research before you commit to the software.
Then, sign up for a free trial to test out the software yourself.
Your own experience with the software is more valuable than any advice I can give.
Best of luck and happy researching!
Shopify is an outstanding eCommerce platform that's flexible, customizable, and highly reliable.
Whether you're a small, one-person drop shipping business or corporation looking to scale (or anything in between), Shopify has plans and add-ons that can help you sell more with less effort.
Also, Check out:
Any questions about How Does Shopify Work? Leave a comment below. If you like this post do share it with your friends. Do check out our Blogs here.
If you are completely new to Blogging then here we learn how to get started with Passive Income and how to create a life of freedom. Get started here.
Check out My Story how I created a life of freedom with Blogging and Affiliate Marketing here.
Also, if you have any Query you can Contact Us. 
Have a good day:)
SEO' Digital Marketer and Blogger @ electrobot.co